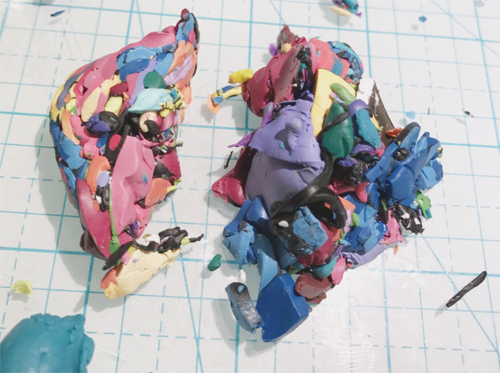 You can create art that moves you.
And not just art that moves you, but moves everyone else too.
.
Sometimes all you need is a spark, a reminder, a new perspective. A fresh dose of mojo to get you back in the studio.
.
And a companion who knows the daily ups and downs of your artistic pursuit. The half starts, uncertainties and inner critics. Those moments when your art does not match your expectations.
Studio Mojo helps you find the next layer in your polymer journey.
.

.
I'll encourage you to:
Find your mojo for polymer clay and get inspired!
Avoid feeling stagnant and disconnected from the community.
Understand that no matter what skill level, we share a common creative journey.
.


Each week there's:
Tools, resources, links and other info I've researched for you.
Trends that I like. (Maybe you'll like them too.)
What I've been working on lately. I go with my gut and sometimes it lands for people. (Sometimes it doesn't.)
Plus access to a library of tutorials and tools.
And all the videos I've ever made, including 136 interviews with polymer artists around the world.
.

Like a workshop each week!
StudioMojo has opened my world to some exciting and very human role models in this field. It is like a workshop each week!
I would like to help you move forward with your art. There's no reason to hold back any longer. I hope you'll join the 200+ other artists like you who count on their Saturday missives full of news and inspiration.
Sign up for $6.99/month or $76/year
Absolutely no spam. You can cancel anytime from your account profile.
.

Inspiration

It has proven time and time again to be a needed inspiration.

Look forward to getting it every Saturday

I peruse it and spend more time on polymer clay than I usually would on a Saturday because of it.

Thank you for boosting my confidence in my work.

It does so much for spawning new ideas and gives me energy for the next iteration of my creations.

Spot on and greatly appreciated

You do such a marvelous job of describing the breadth and depth of what we endeavor.

You mentioning my work

brought loads of people to my Etsy shop, blog and Facebook...

I'm enjoying the Mojo

Sort of like Polymer Clay Daily on steroids....!! (er...in a GOOD way.)

Thanks

Thanks so much once again for getting my Saturday off to a great start!

Seriously

You do an amazing job of helping artists expose and share their work...
.
Questions about StudioMojo Membership
There's no wrong way to play with clay.
Imagine your next piece is the exact thing we're waiting for. Join us.
.